Year 8 Options
Key Dates:
Monday 21st March at 6pm: Options forms 'Go Live'.
Tuesday 22nd March at 6pm: Options forms close - deadline for submission.
Welcome & Options Outline

The Year 8 Options Process
Advice and Guidance
There is loads of information and advice out there, about choosing your options. We would particularly recommend checking out CareerPilot and Youth Employment UK. You will also find information and useful links on the Careers Education, Information, Advice and Guidance section of our site.
If you want some general advice about careers and how they could link into possible options, we would recommend checking out Start but do not forget you also have access to Morrisby Careers (formerly called Fast Tomato) – if you cannot remember your login details, contact Mr Towsey, and he will be able to help.
We have created a Careers Guidance Team, on Microsoft Teams, which all students can join. This is full of information about careers and options for the future, and we will continue to update this with resources. To access this, students need to click 'Join or create team' and either search for 'Careers Guidance' or enter the following code: yqews4w
You can also speak to our Careers Advisor, Mr Towsey. The easiest way to contact him is via email (gtowsey@westhatch.net), or you can pop into the Careers Centre before school, or at Break. You can find him by the buses after school, or he does Lunch Duty on Thursday (basketball courts) and Friday (back of the pool).
Our Top Tips for picking your options are as follows;
Know the course, not just the subject.
Make sure you do your research and are familiar with what the content of each subject involves; do not judge it by the title alone. Also, remember that courses change, so what your friends or siblings may have covered in the past, is not necessarily what you will study.
Pick something you like, not just because your friends pick it.
Your friends might enjoy a subject you do not and even if you pick the same subject, there is no guarantee you will be in the same class.
Do not base your choices on your current teacher.
Speak to your teachers about your options but remember that next year they might not be teaching your class. Do not pick a subject because of the teacher you think you will have.
If you are not sure, pick something you love.
If you are not sure which subjects to do, then pick something you find interesting or are good at.
Do not stress, too much.
The reality is that it does not matter which subjects you choose, the most important thing is to achieve good results. The subjects you pick now will not limit your choices after Year 11.
Options questions and who to speak to?
If you have any questions about your Option choices, or you want a bit of advice about what subjects might be the best for you, there is loads of information and support available to you.
If your question relates to a specific subject, check out the subject information below. You could also speak to the relevant teachers or Head of Department.
You can speak to our Careers Advisor, Mr Towsey, who oversees the options process: the easiest way to contact him is via email (gtowsey@westhatch.net).

You could also either;

1) e-mail options@westhatch.net
2) Click here to open a live chat.
3) Complete this question form: forms.office.com/r/wyRgDEkbgq
Welcome from Mr Sinfield
Welcome to your Year 8 Options
This webpage outlines all the information, advice and guidance that will help you to make the best decisions about which subjects to study over the next 3 years.
Why is it important?
The choices and decisions you make now may have a significant impact on your future. These decisions should not be made lightly, so we will offer you as much support as we can, to ensure you follow the right path.
What can I choose?
For most of you, you will make three choices from a group of EBacc subjects. You can drop one of these subjects at the end of Year 9 if you wish.
You will also make one choice from a group of vocational subjects and one choice from a group of arts subjects. You will study these for a year and sit an assessment at the end of Year 9 and complete these courses.
Who can help?
It is important that you have as much information and advice as possible. There are a number of people you can speak to from myself to your Form Tutors, others in your Form and your teachers. You can also speak to Mr Towsey, who leads on the options process and is our Careers Advisor. He is based in the Careers Centre (next to S19). If you have any questions do not hesitate to ask!
What next?
Look through all the information below. We will try to give you as much information and support as possible before you choose your options so that you make the best choices for you and your future.
Yours sincerely,
Mr A Sinfield
Deputy Headteacher
EBacc Options (6 hours p/w)
To achieve the EBacc students must study at least seven GCSEs in the five areas: English Language, English Literature, Maths, Biology, Chemistry and Physics, History or Geography and a Language.
Computer Science
The Computing department offers two courses in year 10 and year 9 is a foundation that should enable students to identify where their strengths in Computing can be best expressed.
What will I learn in Year 9?
1a) Internet, WWW and HTML – relevant to Cambridge National and Computer Science
1b) Networking – relevant to Cambridge National and Computer Science
2a) Legal/ ethical and environmental issues – relevant to Cambridge National and Computer Science
2b) Python – selection and iteration - relevant to Computer Science
3a) Spreadsheet model using Ms Excel – relevant to Computer Science and Business Studies
3b) Database using Ms Access – relevant to Cambridge National and Computer Science
Geography
Our Year 9 Geography curriculum prepares students to study the subject at
GCSE level, in Year 10 and 11.

This course will introduce key topics and allows students to
develop the skills required to continue with the course.

Please see details of the GCSE Geography course, for a flavour of the topics
students will be required to complete in Year 9.

History
Course Content:
In Year 9 students will work through a scheme of work called Power and Control in the 20th Century. Within this unit of work, the students will look at Russia, America and Germany in the period between 1900 and 1939. This unit is designed to develop background knowledge and skills needed to be successful at GCSE.
Topics Covered in Year 9:
Russia 1900-1924
Weimar Germany 1900-1924
America 1919-1929
Russia 1924- 1939
Nazi Germany 1924 – 1939
Steps to World War Two
GCSE Content:
Paper 1: Crime and Punishment in Britain, c1000 – present with Whitechapel, c1870 – c1900: crime, policing and the inner city.
Paper 2: Period study (Superpower Relations and the Cold War) and British Depth Study (Early Elizabethan England).
Paper 3: Weimar and Nazi Germany.
If you would like any further information or advice please contact Miss Hunt.

Performing Arts Pathway (3 hours p/w)

Performing Arts Pathway
* If you select the Performing Arts Pathway,
you do not make a Vocational or Arts choice.

Y9 Arts Award Breakdown
WHAT IS THE ARTS AWARD?
Silver Arts Award is a Level 2 qualification on the Regulated Qualifications Framework (RQF) and is designed for ages 14 and above, but is open to young people aged 11 to 25.
WHERE CAN I FIND OUT MORE INFORMATION ABOUT THE QUALIFICATION?
https://www.artsaward.org.uk/
HOW AM I ASSESSED?
To achieve a Silver Arts Award, young people collect evidence in an individual arts portfolio of their experiences of:
Arts practice and pathways
◾identifying and planning an arts challenge
◾implementing and reviewing their arts challenge
◾reviewing arts events and sharing their views
◾researching future opportunities and careers in the arts
Arts leadership
◾identifying a leadership role and planning the project's aims
◾planning the practical issues
◾being an effective arts leader
◾working effectively with others
◾reviewing their project and leadership role
WHAT WILL MY YEAR LOOK LIKE?
UNIT: (SEPTEMBER-DECEMBER)
Unit 1 Arts Award Challenge: Performing a Christmas pantomime to primary school children, family and peers.
SKILLS TAUGHT:
Musical theatre, Constructive feedback, following direction, self/peer reflection, adapting to an audience, dramatic techniques such as split scene, thought tracking, monologue and hot seating, leadership, performance and research.
UNIT: (DECEMBER-JULY)
Unit 2 Arts Award: Arts Leadership- leading workshops to primary school children. Experiencing a professional workshop. Researching arts careers. Experience watching professional theatre and writing reviews.
SKILLS TAUGHT:
Understanding of leadership skills and qualities, artistic aims and scope, assess interest and abilities of an audience, developing an appropriate project plan, executing a workshop, understanding arts careers and evaluation of self-performance and working alongside others.
Example of 'Portfolio of Evidence'
Vocational Options (2 hours p/w)

Business & Enterprise
Overview
The course is designed to introduce learners to Business and Enterprise. It has a vocational and hand-on element to the course requiring learners to apply theory to real businesses and realistic scenarios.
The course has been developed to enthuse and inspire learners about a career in business and enterprise. The course will appeal to learners who wish to either set up their own business in the future, move in to employment or progress on to further study within the Business field.
Topics Covered
Unit 1: Introduction to business and enterprise
This unit aims to give learners an introduction to business and enterprise. It gives learners an introduction to start up projects and helps them to identify risks and rewards. Learners will obtain an insight in to different types of businesses and how they are set up, understand the role of an entrepreneur and their characteristics, gain an understanding of how businesses target different types of customers and get the opportunity to investigate risks and rewards for new business enterprises in their local area.
Unit 2: Marketing for business and enterprise
This unit aims to give learners an insight into market research and different marketing opportunities and techniques. It gives learners an insight in to why businesses use marketing techniques to target different types of customers, impact of social media and the internet, different strategies used by businesses to persuade a customer to visit their businesses and buy their products/services and an opportunity to investigate a business and the marketing techniques used.
Unit 3: Finance for business and enterprise
This unit aims to provide learners with a basic knowledge and understanding of business finance for a new business or enterprise. It gives learners an insight in to how businesses are funded, sources of finance available, the costs a business incurs, the importance of keeping financial records and an opportunity to investigate different types of taxation businesses must pay.
Unit 4: Plan, develop and participate in a business or enterprise project
This unit aims to develop a project plan and implement the project. The learner will then go on to evaluate the overall success of the project. The project will be based on all the concepts learnt in units 1, 2 and 3 and will allow learners to put their theory in to practice by taking part and running a small business enterprise. The unit helps to develop key skills in team work, building positive relationships, presentation, research and numeracy skills as well as analytical and evaluative skills.
Assessment

Unit

Assessment

1-Introduction to

Business and Enterprise

Portfolio of Work

2-Marketing for Business

and Enterprise

Portfolio of Work

3-Finance for Business

and Enterprise

Portfolio of Work

4-Plan, develop and

participate in a business or enterprise project

Portfolio of Work
Digital & Interactive Media
This course is aimed at learners wishing to gain an understanding of the interactive media industry and develop basic skills across a range of areas and contexts within the subject.
Students will learn about the media industry, conventions, concepts and terminology through the different forms that they will study.
Engineering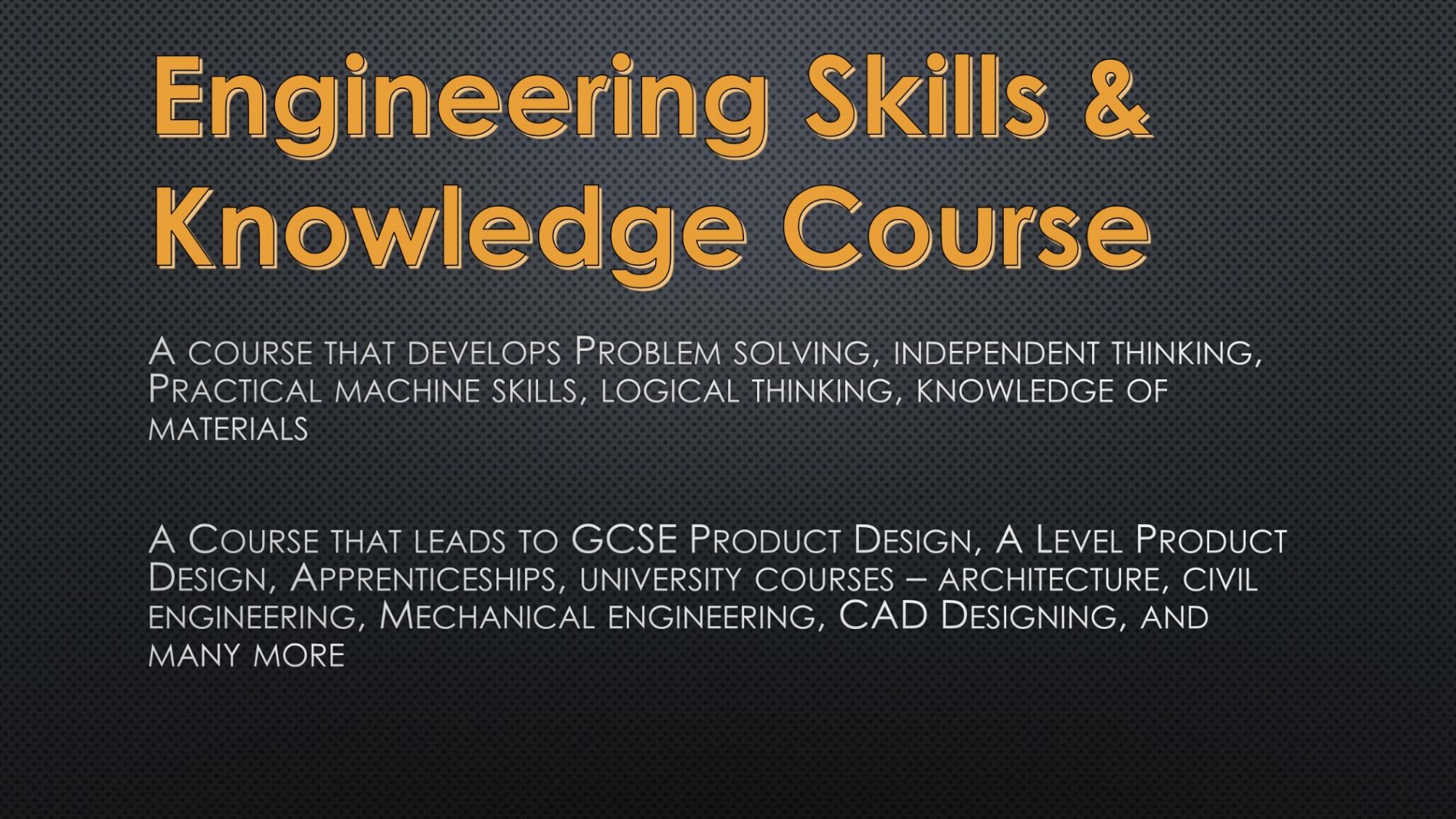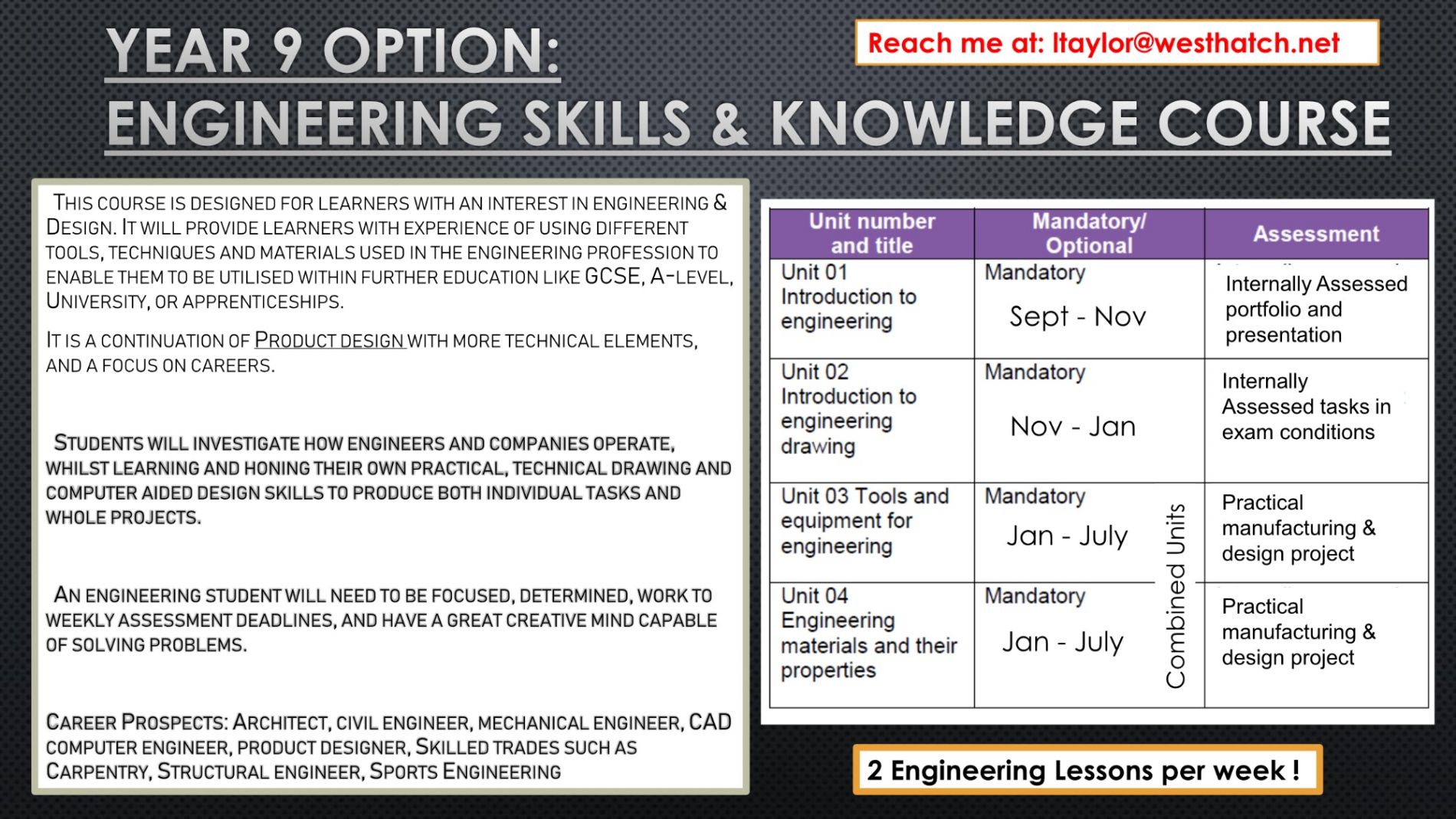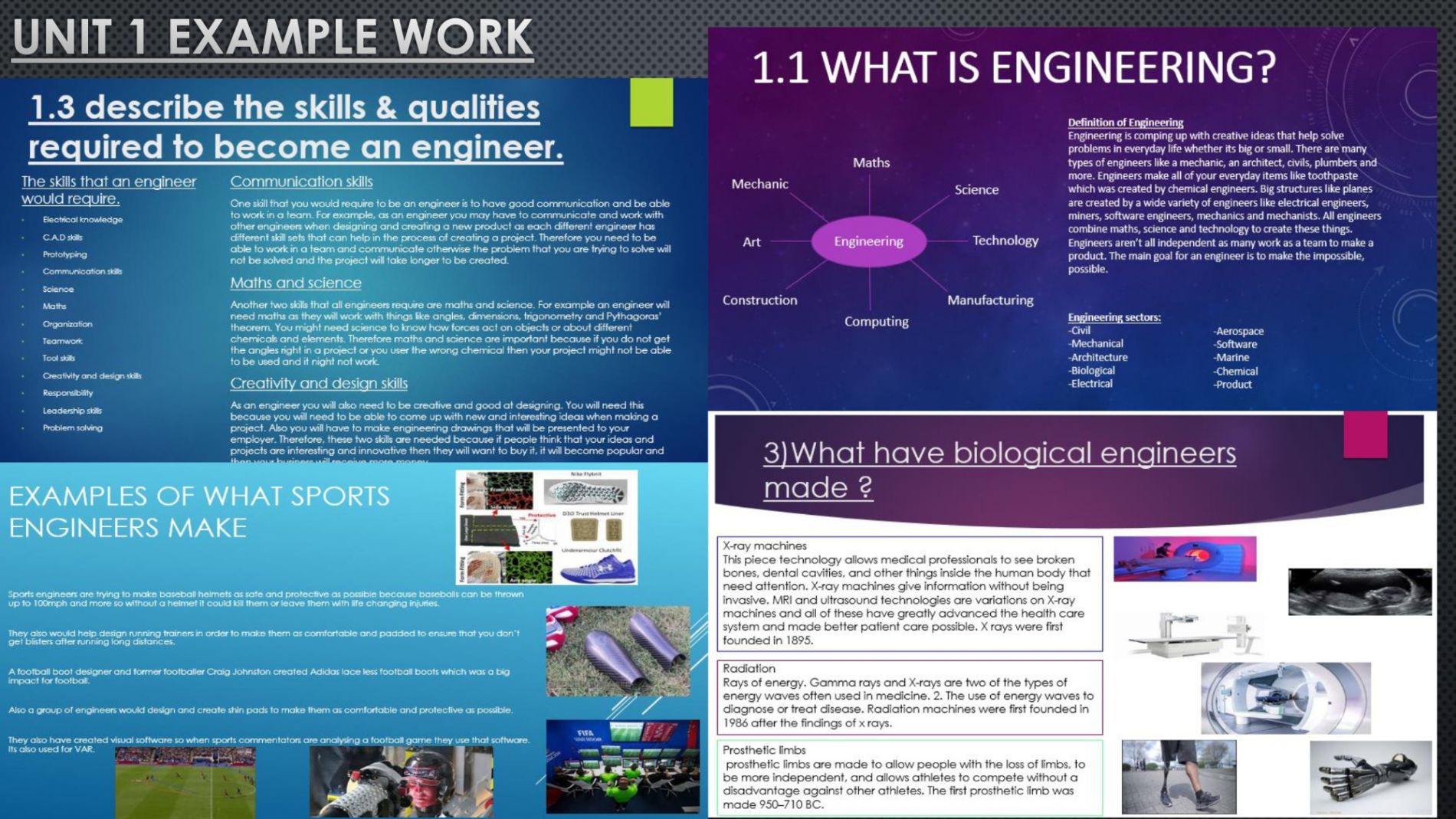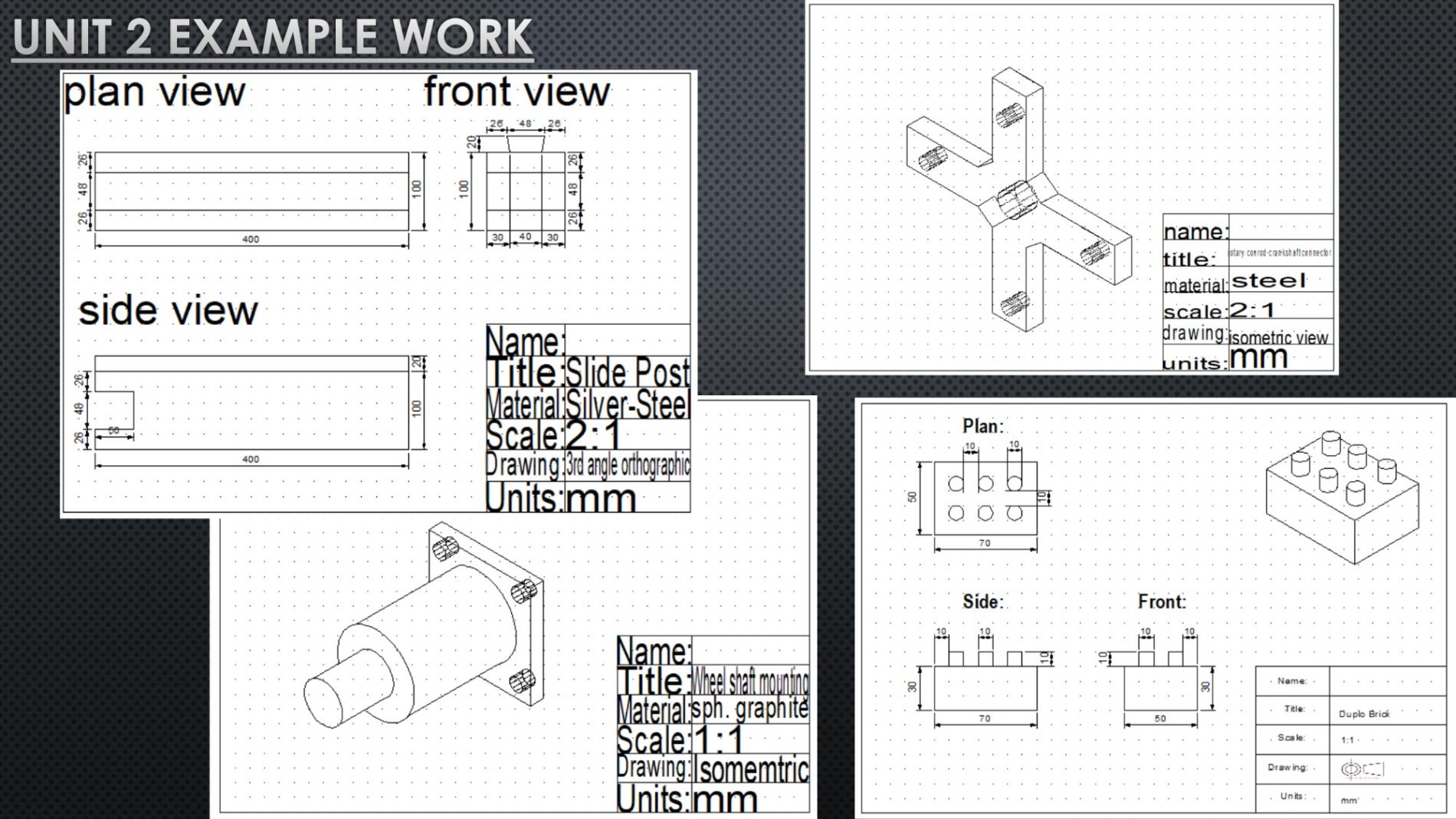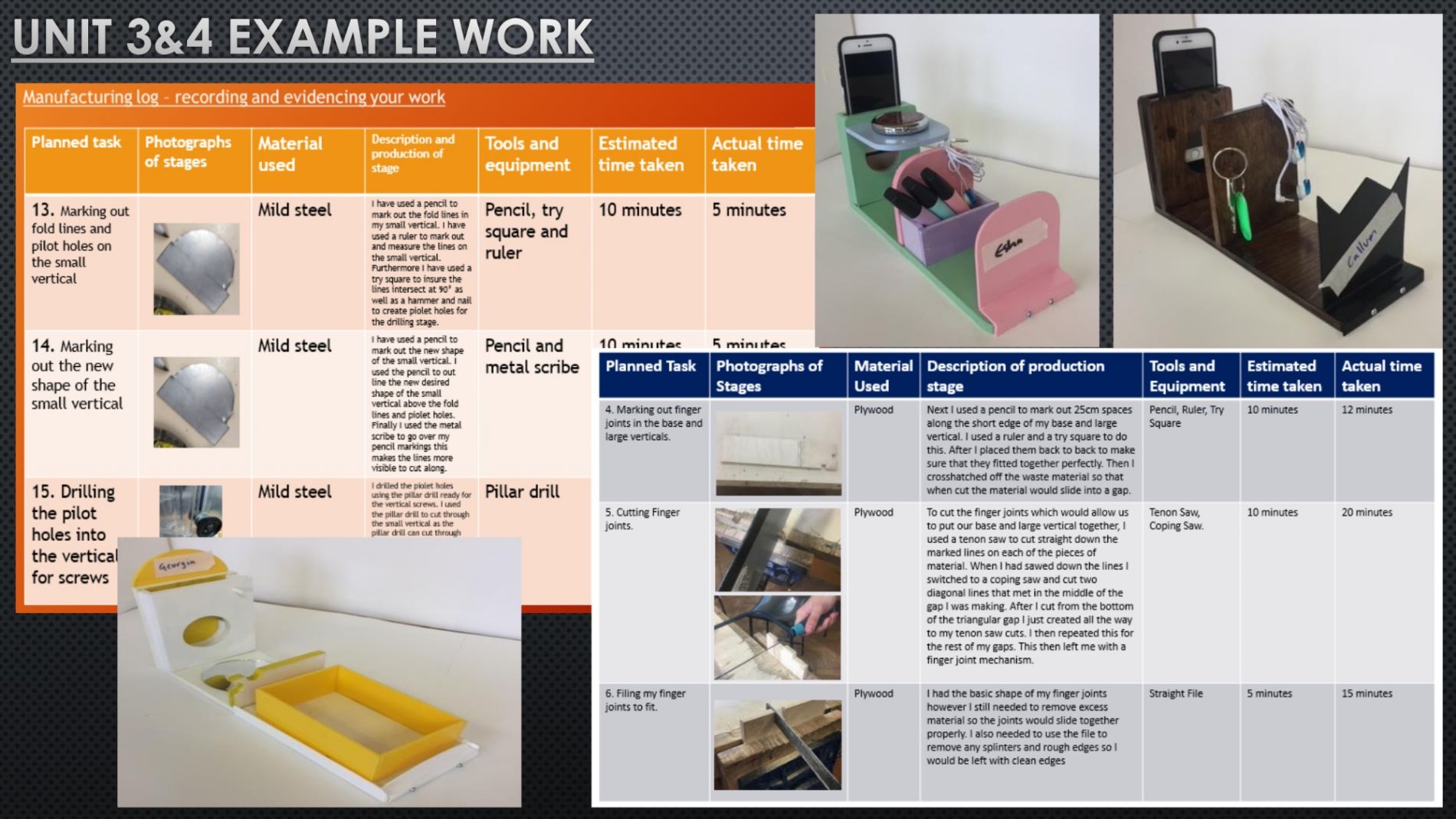 Statistics
To select this options, you must be in sets 1,2 or 3 for Maths.
Students who select Statistics may have the opportunity to achieve a GCSE qualification.
Introduction
The course provides opportunities to apply statistical techniques to solve problems within the framework of the statistical enquiry cycle (SEC). Students should have experience of the application of statistical techniques across the curriculum, in subjects such as the sciences, social sciences, computing, geography, business and economics, and outside the classroom in the world in general.
Assessment Criteria
Skill

Weighting

Assessment objective

Demonstrate knowledge and understanding, using appropriate terminology and notation, of standard statistical techniques used to:

· collect and represent information

· calculate summary statistics and probabilities.

55%

AO1

Interpret statistical information and results in context and reason statistically to draw conclusions.

25%

AO2

Assess the appropriateness of the statistical methodologies and the conclusions drawn through the application of the statistical enquiry cycle.

20%

AO3
Topics Covered: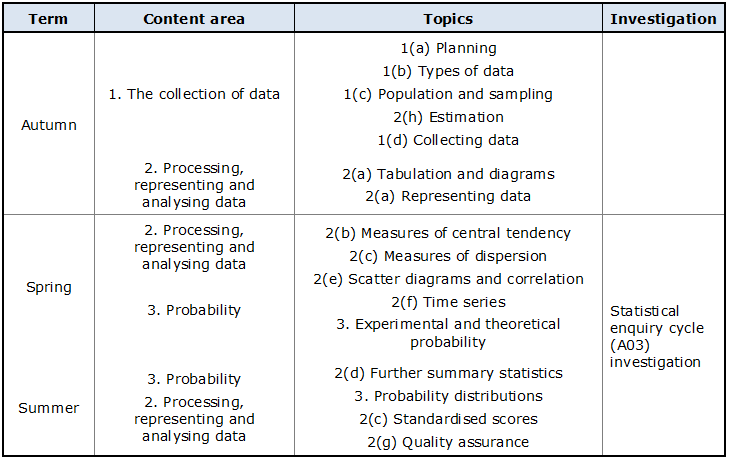 Qualification at a glance
The Pearson Edexcel Level 1/Level 2 GCSE (9–1) in Statistics consists of two externally-examined papers. Students must complete all assessment in May/June in any single year, and students can only be entered for either Foundation tier or Higher tier. Paper 1 (*Paper code: 1ST0/1F and 1ST0/1H).
For the full specification, please click here.
If you have any questions about Statistics, please speak to Mrs Altaf.
Arts Options (1 hour p/w)

Dance
Overview
Develop your dance skills and techniques through the reproduction of your dance repertoire.
Study different styles of dance, such as jazz, contemporary and street.
Develop your understanding of Dance by examining practitioners' work and the processes used to create a performance.
Prepare a piece, individually or as part of a group.
Have the opportunity to develop your performance skills, through involvement with the Dance Shows.
This course would be ideal preparation for anyone considering studying BTEC Dance in Year 10/11.
Information, Advice or Question
If you would like further information and advice please speak to Miss Judge.
Drama
Overview
Over the year we aim for the students to grow as artists and arts leaders, inspiring them to connect with and take part in the wider arts world through taking challenges in an art form.
Young people get to:
· Discover the enjoyment of creating and participating in Drama
· Develop their creativity and leadership skills
· Learn new skills and share them with others
· Get to work with or experience working with creative arts professionals
· Gain experience and knowledge to progress into further education and employment
Young people take on challenges in Drama, participate in arts activities, experience arts events, get inspired by artists and share their skills with others. Young people create a portfolio to keep a record of their creative journey. Along the way, they are supported by their teacher.
Transferable Skills you gain from Drama...
Team working

Verbal and written communication skills

Problem-solving

Time management

Research skills

People management

Creativity

Discipline

Empathy

Confidence
Religion, Philosophy & Ethics
Alongside your choices, all students will also study the following subjects:
English Language - 2 hours p/w
English Literature - 2 hours p/w
Mathematics - 4 hours p/w
Biology, Chemistry & Physics - 5 hours p/w
Physical Education - 2 hours p/w
Financial Literacy - 1 hour p/w
Financial Literacy: Lessons in Financial Education (LiFE)
For Financial Literacy: Lessons in Financial Education (LiFE), you will need to bring in your own set of wired headphones. These are part of the required equipment for this course.
Overview
This course provides an understanding of the economy, financial management skills, employability and enterprise. It develops knowledge of business and finance-related disciplines to prepare our students to work for a larger organisation or to work for themselves.
The financially related content and skills of this qualification provide an initial foundation for continued study within accountancy, finance and business-related qualifications at Level 3. The transferable skills of research, communication and independent study developed through this course are also valuable for further study in many unrelated disciplines.

For more information, click here.