West Hatch Young Carers
What is a Young carer?
A young carer is someone aged 25 and under who cares for a friend or family member who, due to illness, disability, a mental health problem or an addiction, cannot cope without their support. Older young carers (18-25) are also known as young adult carers and they may have different support needs to younger carers.
(https://carers.org/about-caring/about-young-carers)
What might a Young Carer do?
Practical tasks, like cooking, housework and shopping.
Physical care, such as helping someone out of bed.
Emotional support, including talking to someone who is distressed.
Personal care, such as helping someone dress.
Translating for parents/caregivers
Managing the family budget and collecting prescriptions.
Helping to give medicine.
Helping someone communicate.
Looking after brothers and sisters.
How many young Carers are there?
The 2011 Census identified 177,918 young carers in England and Wales. One in eight of those were aged under eight.
This is widely believed to be the tip of the iceberg, with some estimates suggesting that as many as one in five schoolchildren are young carers (University of Nottingham 2018), with this number increasing during the COVID-19 pandemic.
Being a Young Carer can have a major impact on things that are important when growing up
Young carers are already likely to have significantly lower educational attainment than their peers.
With the added complications of COVID-19, young carers have missed out on even more school than before and urgent support is needed if they are not to be left behind their peers.
Caring can also be an isolating experience but having the right support in place can give young carers a better chance of succeeding in all parts of their lives.
What are we doing to help our young Carers?
West Hatch is now following the National Young Carers in schools award in order to help us identify and help our young carers.
We now have a Young carers Team made up of:
Mr Cleere, School counsellor - Email: MCleere@westhatch.net
Ms Williams, Head of Social Science - Email: JAWilliams@westhatch.net
Mr Tester, Assistant Head Teacher - Email: RTester@westhatch.net
Ms Lord, Head of Music - Email: MLord@westhatch.net
Miss Duddridge, West Hatch P.E Team - Email: SDuddridge@westhatch.net
All of our team are dedicated to helping young carers and you can email them for assistance with matters regarding young carers.
You can also contact the team by telephoning West Hatch on: 0208 504 8216
Accessing the school nurse and medical team at West Hatch:
To get an appointment to see our school nurse please ask at student services where they will book you an appointment.
Student services is also the place to go to access the medical team.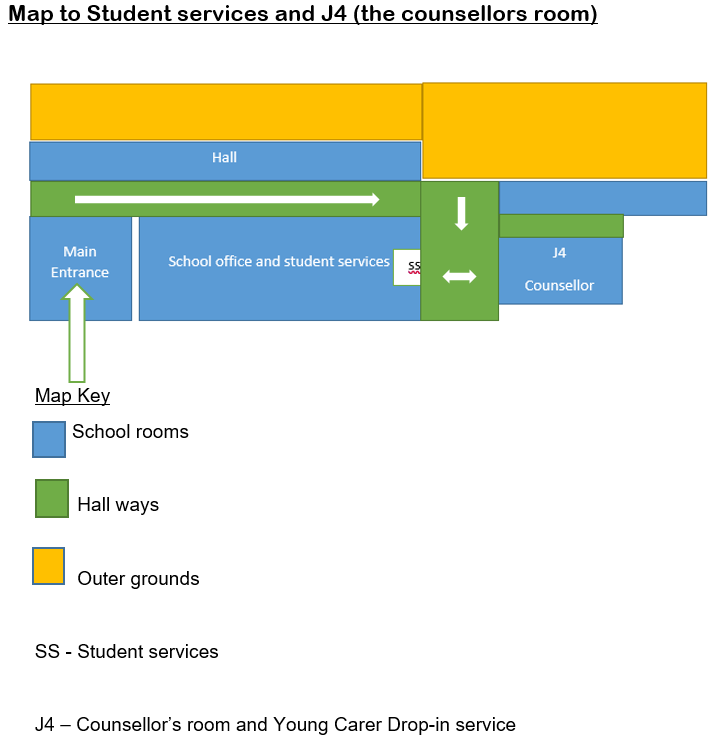 Young Carers Drop-in Service
Friday Lunchtime (1.30pm- 2.15pm)
Counsellor's Room: J4
More help for young carers can be accessed by contacting:
Carers Trust
https://carers.org/about-caring/about-young-carers
Head Office
(Please note our address as of 1 May 2019)
Carers Trust
Unit 101
164–180 Union Street
London SE1 0LH
Website: https://www.carersfirst.org.uk/essex/welcome/
Tel: 03003031555
---
TuVida (Essex)
Website: https://www.tuvida.org/london-and-essex
Tel: 01708 757242
Email: essex@tuvida.org
Address: Living Well Resource Centre,
372 Chadwell Heath Lane,
Romford,
RM6 4YG
---
Redbridge Carers Support Service
Tel: 0208 514 6251
Email: office@rcss.org.uk
Address: 12 Clements Court, Clements Lane, Ilford IG1 2QY