Skills Builder - Employability Skills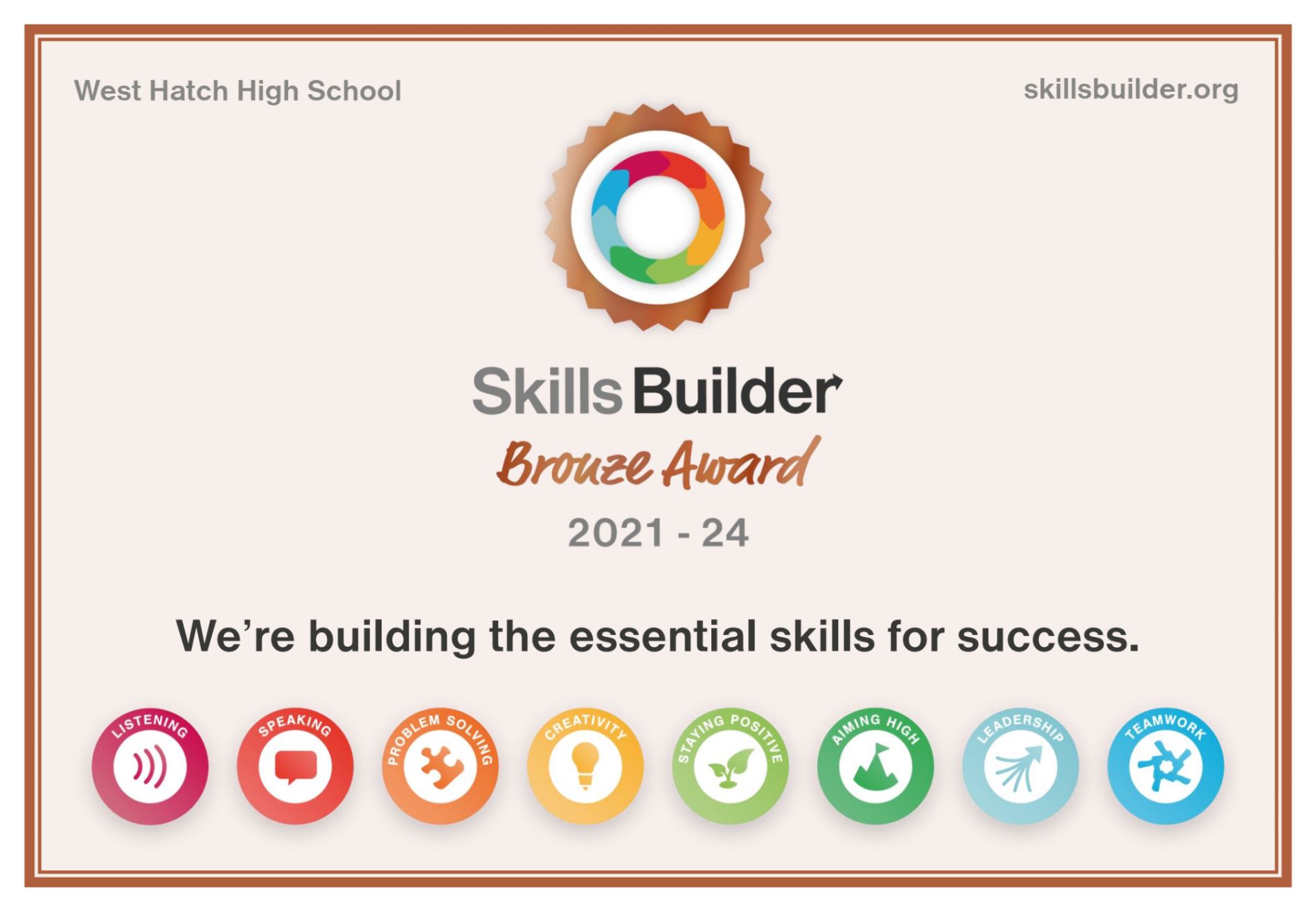 At West Hatch, we recognise the importance of developing "employability skills", but equally realise that it can be a confusing and vague term for student's to fully understand – there is not a standard list of skills and how do you actual evidence or explain skills such as 'teamwork'?
This is where the Skills Builder Partnership comes in!
We are honoured to work with them, to develop our understanding of "employability skills" and help to prepare our students for success in education and employment.
The Skills Builder Universal Framework outlines the 8 essential skills everyone needs:

The Universal Framework outlines what these skills are, providing a clear definition for each, and fifteen steps we need to take to master each skill.
Students can build these skills in lessons, as well as by taking part in extra-curricular activities.
We are in the process of adding these skills to our curriculum maps, and you will see them around the school and in the information set out, throughout the year.
If you have any questions about this please speak to our Skills Leader, Mr G. Towsey (gtowsey@westhatch.net).
You can also use the Skills Builder Benchmark, which is a self-assessment tool, to discover your essential skills strengths and areas for improvement. You can complete this by visiting benchmark.skillsbuilder.org
You will need to register, using the relevant group codes below. You can then choose the skill you would like to assess and work your way through the 15 skills steps (it does not take too long to complete all skills assessments).
Once you have completed the self-assessment you will receive a personalised Skills Report and tips on how you can further develop these skills.
Anyone aged 11+ can complete the Benchmark, so why not get your family and friends involved too — we have created a family & friends group!
Skills Builder Benchmark Group Codes (They are case-sensitive)
| | |
| --- | --- |
| Year 7 Students: vBqgbV | Year 8 Students: v3Caei |
| Year 9 Students: iABmqz | Year 10 Students: EIU1M5 |
| Year 11 Students: GvM6GX | Year 12 Students: HL6hVZ |
| Year 13 Students: wpBX0x | Family & Friends: 74AMBI |
You can also view a copy of the Skills Builder Universal Framework below: