DPR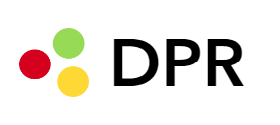 What is DPR?

DPR stands for Dynamic Progress Reporting, our much-improved reporting system. It is a website based reporting system that enables parents to see their child's progress in all subjects at any day of the week, any time of day.
This platform enables you to support your child to achieve the highest possible progress in lessons and support at home.
Here is a link for further information: What is DPR? – Axle Education (zendesk.com)

Click here to login to your DPR page: DPR | Login

Here you will find some more information about DPR and how to use it to support your child.

A guide to understanding your young person's report.
Guide to Understanding Your Child's Report
Pathways
There is a national expectation that your child makes good progress between Year 7 and Year 11. Based on their KS2 results, students will be placed on Pathway A, B, C or D. These pathways provide clear learning routes from Year 7 to Year 11 – the table below demonstrates what this means:
| | | | |
| --- | --- | --- | --- |
| Students' starting points at KS2, upon entry to West Hatch | Allocated pathway(s) for the students | Expected Year 11 GCSE grades linked to the pathway(s) | Old grade comparator (guidance only) |
| Progress significantly above the expected level of attainment at KS2 | A | 7,8,9 | A to A* |
| Progress same as the expected level of attainment at KS2 | B | 5,6 | C1 to B |
| Progress below the expected level of attainment at KS2 | C | 3,4 | E1 to C2 |
| Progress significantly below the expected level of attainment at KS2 | D | 1,2 | G to E2 |
Our Colour Coding
Each pathway identifies clear learning objectives by each year and for each subject. Students must demonstrate secured understanding in these key learning objectives in order to be on track to achieve their target grade. We colour against each learning objective like this:
| | |
| --- | --- |
| N | NOT YET ASSESSED This means the teacher has not yet assessed the understanding of the learning objective. |
| D | DEVELOPING: This means the student has shown some understanding of the learning objective. |
| C | CONSOLIDATING: This means your child has shown good understanding of the learning objective, but they need to practise more to secure their understanding |
| S | SECURED: This means your child has shown excellent understanding of the learning objective |
What We Collect
What We Collect

What They Mean

How We Show Progress

For Which Year Group?

Lesson Contribution

How much interest and focus your child has during their lessons and learning and how much they engage, participate and respond positively throughout each lesson.

1 = Outstanding;

2 = Good;

3 = Requires Improvement

4 = Unacceptable

All Years

Independent Study

This is about how much your child is self-regulating. Do you see your child engaging with the DPR and looking to improve on their key learning objectives. Do they complete homework and revision in good time and to the best of their ability.

Response to Feedback

How much effort is made by your child to correct mistakes and understand misconceptions following assessment feedback and lesson feedback so that barriers to your child's progress are overcome as soon as possible. How much they engage with individual and group interventions and tasks set to help them overcome barriers.

On Track

Each teacher will base their decision on which pathway your child is in, the amount of time spent on the learning and overall progress across all of your child's key objectives covered at that time.

This will either be "yes",

"no"

or N/A.

Years 7,8,9

Our Grade

Department Assessed Grade. This is the GCSE grade the department assesses that your child is currently working at. This should be compared to your child's target grade to establish if your child is likely to reach, exceed or fall below their target grade within the time left before final exams.

We subdivide grades thus:

5+: highly secure

5: secure

5-: insecure

Years 10,11

Target Grade

The Target Grade is not a Predicted Grade; it is the minimum grade your child should be aiming to achieve by the end of year 11. A target of a 4 doesn't mean your child can't still get a grade 7. The target grade set is based on KS2 data and other contextual information of your child. The target set is based on the progress made by students with similar starting points across all schools in the country.

The very highest grades at GCSE are grades 7, 8 & 9

A "good pass" is a grade 4 or 5

To study A-levels or equivalent, unless stated differently, students need to achieve a grade 6 across a range of GCSE's

Years 10,11
A guide to using the DPR
Access DPR via the school website:
How to log in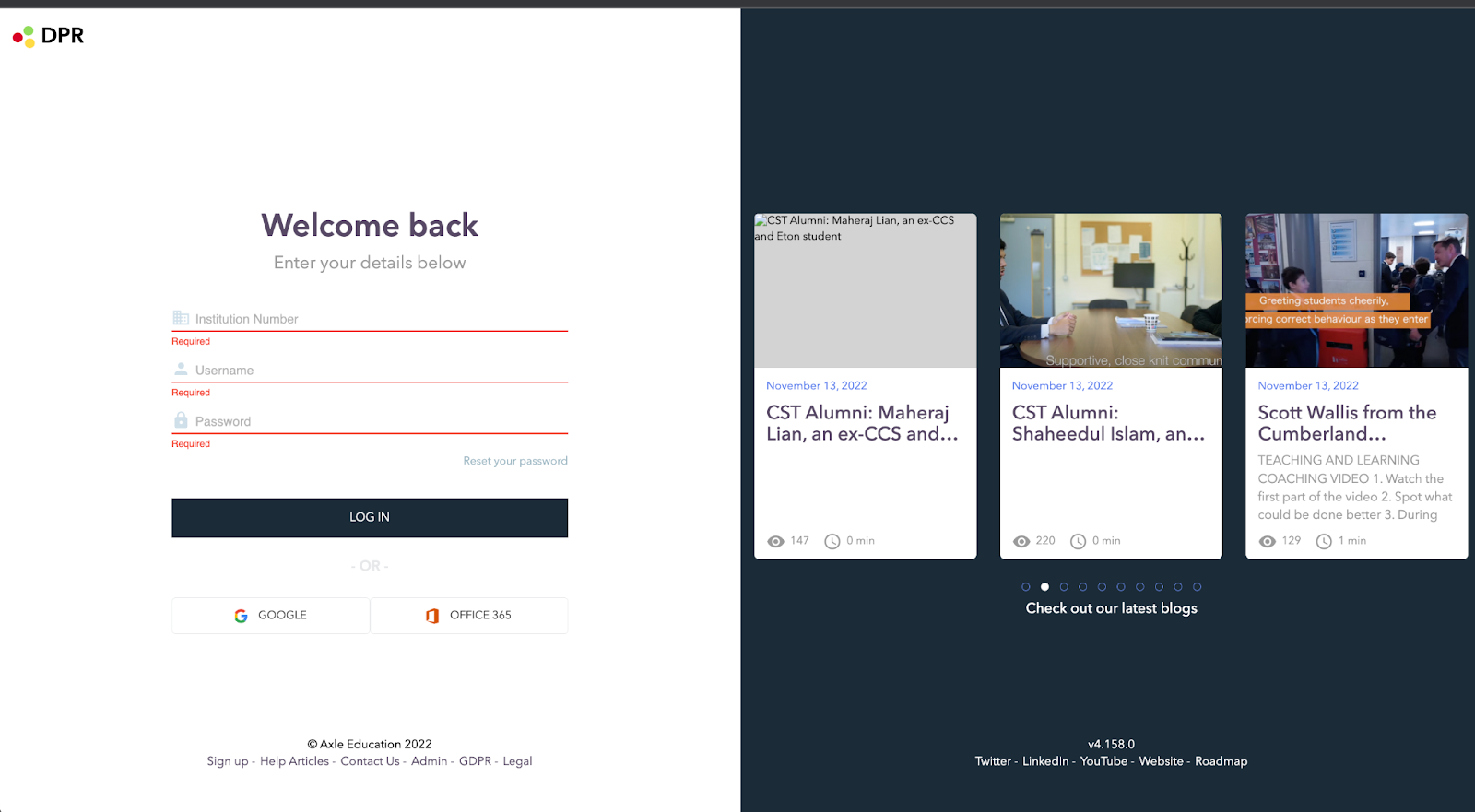 Go to this website: https://dpr.education/
Institution number: 16807
You can log in via your child's West Hatch email by clicking the Microsoft 365 button underneath 'Login".
This should take you straight to your child's report. If there is an issue please instruct your child to go to IT support in school the next school day so that the issue can be resolved.
DPR Dashboard
Once you have logged in, you will be presented with the homepage, see below: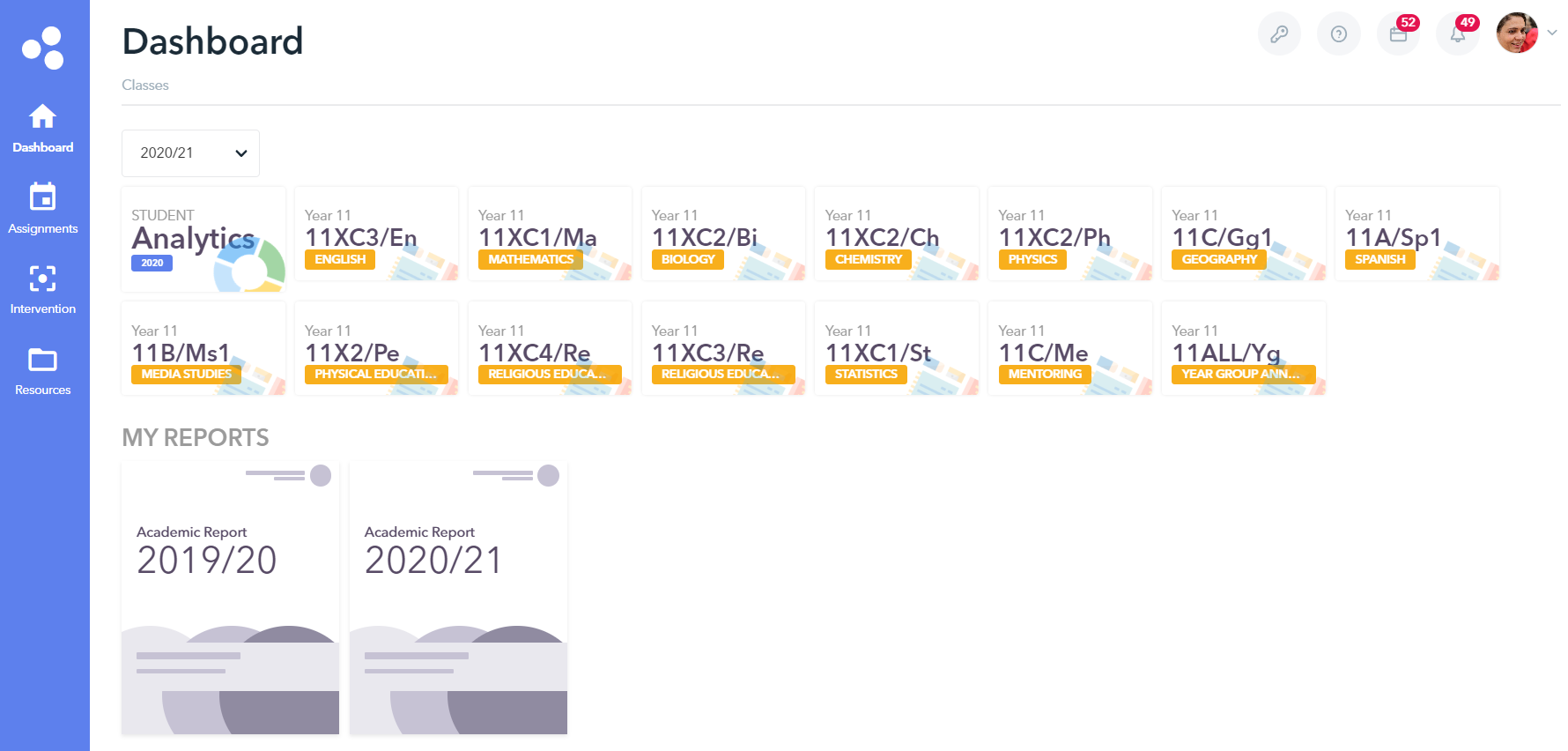 The Dashboard is your homepage and shows the different subjects studied by your child. Use the scroll to view all subjects. The 'Analytics' square will be available once 2 collection have been completed by your teachers and allows you to compare progress made over 2 assessments. You can click on any subject to see both the learning that will take place through the key objectives and your child's progress at any time. Within each subject area you can also view any communication or assignments that have been set.
There is an assignments tab for you to see any work that has been set by teachers. There is an intervention tab for individual targets that may have been set to support your child's learning further and/or highlight an aspect of their learning that they need to pay closer attention to continue to make expected progress.
Here is a link to more information: My subjects and key objectives – Axle Education (zendesk.com)
Accessing student reports
By clicking on the 'Report' button you can download all the information that is obtained in each subject area. This saves time as you as there is no need to click on each subject to view key objectives and the termly report.
Navigate to the Student Dashboard
You will see the available reports for the current year and previous years
Student Subject feedback
Clicking on any of the subjects your child is studying will take you to the key objectives for that subject. You will also see below that some of these objectives have a judgment from that teacher on how much progress is being made by your child. For example, click on the subject 'History' and you will be presented with a screen similar to the one below: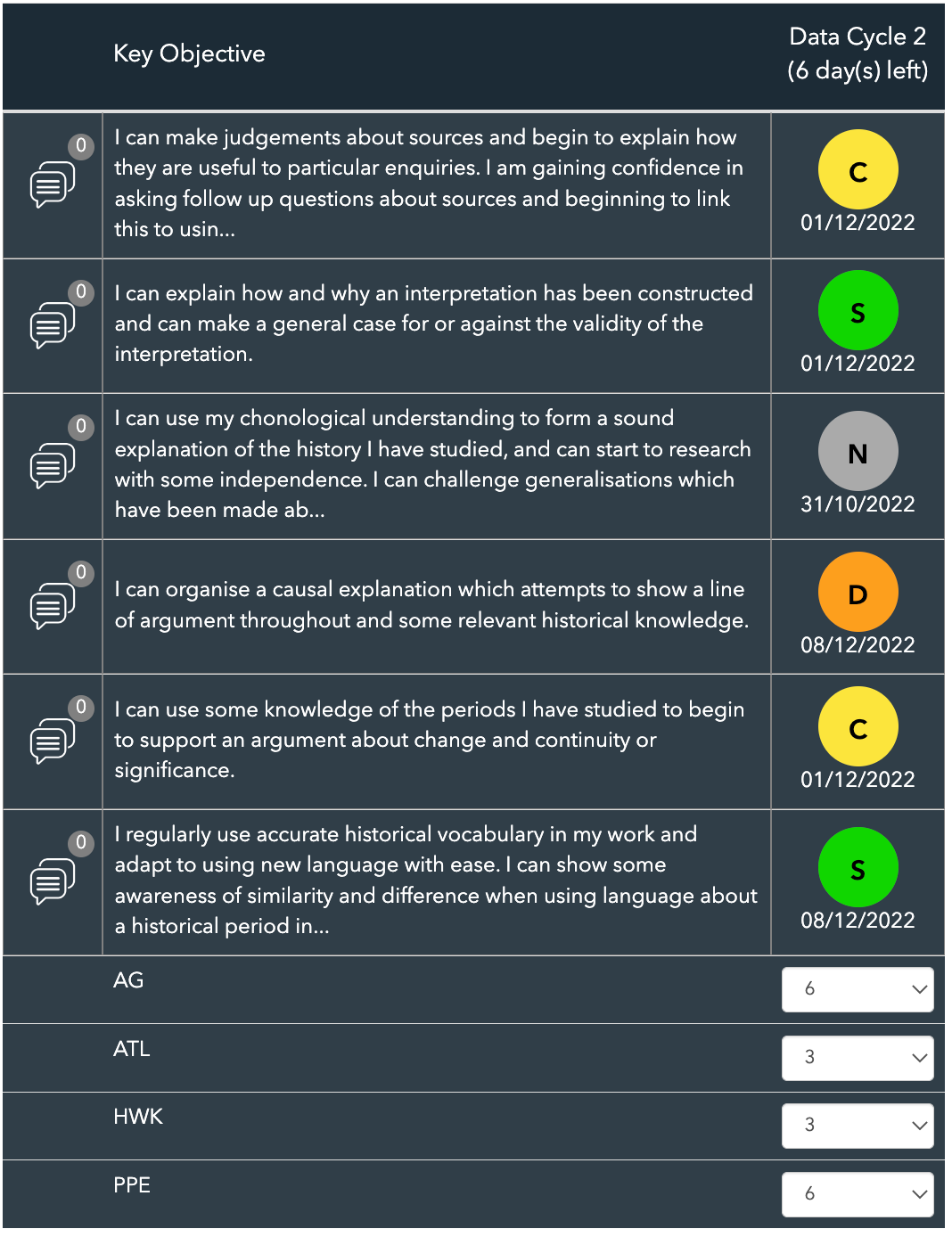 For illustration purposes only, the above print screen shows 6 key learning objectives (most subjects have 10 key learning objectives for the year).
By clicking on this symbol, you can communicate with the teacher of the subject regarding that specific learning objective. So as not to flood teachers with too much communication which takes them away from their core purpose, please only message if you have an urgent concern.
Here is a link telling you more about collaboration: Collaborating – Axle Education (zendesk.com)
The Student Report
The Student Report will open in a new tab
It will include all subjects and corresponding key objectives that the student is allocated to on DPR, including the most recent judgements and grades made by the teachers

The back of the report also includes a table with the contact details of all the student's subject teachers

You can save, download or print the report as required
Frequently Asked Questions
What is the 'Dynamic Progress Reporting' or the 'DPR'?
The DPR is a way of tracking what your child has learnt to date, or needs to learn in the future. For each subject, we have identified the core knowledge and skills that have to be learnt each year. We will test students to find out how much of this information they have secured.
What is unique about the DPR?
The DPR encourages students to take ownership of their own learning, helping them to develop self-regulation. Because the DPR makes clear what has to be learnt, students can take control of the pace of their own learning. The DPR makes reporting to parents practical; parents can look at what students should be able to do, can do and identify areas they need to develop.
Who can access the DPR?
Students, teachers, parents and private tutors can access the Dynamic Progress Report by logging into the online DPR application, www.DPR.education. Once logged in, they receive real time updates on how students are learning. They can also save, download and print PDF versions of the report.
Can we use the DPR to collaborate with the teachers about our children's learning?
You will have access to the details of all your children's teachers, whom you can contact by the click of a button. Additionally, our 'audio feedback' facilitates powerful interaction between you, the teacher and the student, making learning focussed and efficient.
My child has a private tutor. Could the tutor access and utilise the DPR and focus their teaching around the key objectives?
Your child can log into their own DPR account so that their tutor can see:
The 10 key objectives that your child is going to be learning about throughout the year.
Which of these objectives might need extra support if they are not yet identified as secure by your child's school teacher.
We strongly encourage private tutors to help secure their students' understanding of our key objectives that we have identified, as they appear in the DPR. In this way, they will be enhancing and complementing the key learning which takes place at school. As an online application, the DPR is a powerful yet simple collaboration between the schoolteacher, parent, student and tutor.
Can we still have access to the printed paper reports?
Parents are able to view, save and print a student's report for their subjects and thus, review their learning. However, the DPR reports are a live reflection of students' progress at any given time. This dynamic nature encourages regular interaction between students, teachers and tutors and better reflect what the students know on an ongoing basis.
How frequently will the teachers make changes to their judgement?
We encourage our teachers to carry out continuous assessment on students' learning. The frequency of judgements made against key learning objectives in the DPR will vary from teacher to teacher. However, it is our expectation that (as a minimum) teachers will issue at least one judgement for each of the key objectives over the course of one academic year – September to July.
How will we know if our child is making progress in their intervention classes?
In addition to their normal classes, you can also access the key learning objectives for your child's intervention classes if they are required. As above, you can view and print any of these reports.
DPR Assignment Portal & DPR Resource Portal
DPR Assignment Portal
You will notice an areas called assignments on the DPR
Here is a link to more information on how to use DPR Assignments: Assignments – Axle Education (zendesk.com)
Whist we currently subscribe to "show my homework", teachers will now start to set and track assignments (or homework) through the DPR. In this way, students will be able to see an explicit link between their assignments with their key learning objectives found on their DPR. Whilst we transition from show my homework to the DPR assignment portal, students will need to check both for their homework. Each teacher will let them know where they can access their homework and assignments.
Parents, teachers and students can track assignment submissions, access resources to aid learning and ask for feedback through the communication portal.
Over time, teachers and parents will be able to analyse the quality of assignments set and evaluate its impact on students' learning.
DPR Assignments is designed for class teachers to be able to set a particular task for their class with a specified start and due date. When a student logs into DPR, an assignment icon is visible at the top right which provides access to all assignments set for that student. Notifications are not sent out as there is the expectation of students logging in on a daily basis to review their homework.
DPR Resources Portal
Here is a link to more information on how to use DPR Resources: Resources – Axle Education (zendesk.com)
DPR Resources offer a way for schools to create a bank of resources that can be explicitly linked to key objectives and is made accessible to all students (not just a particular class) throughout the school. Students are able to search for resources by key terms (e.g. surds, Macbeth etc).
DPR Resources allows students to have easy access to general supporting resources for their learning and to be able to look at back at previous learning objectives when revision or catch up activities are required.