School says farewell and thank you to retiring Chair of Governors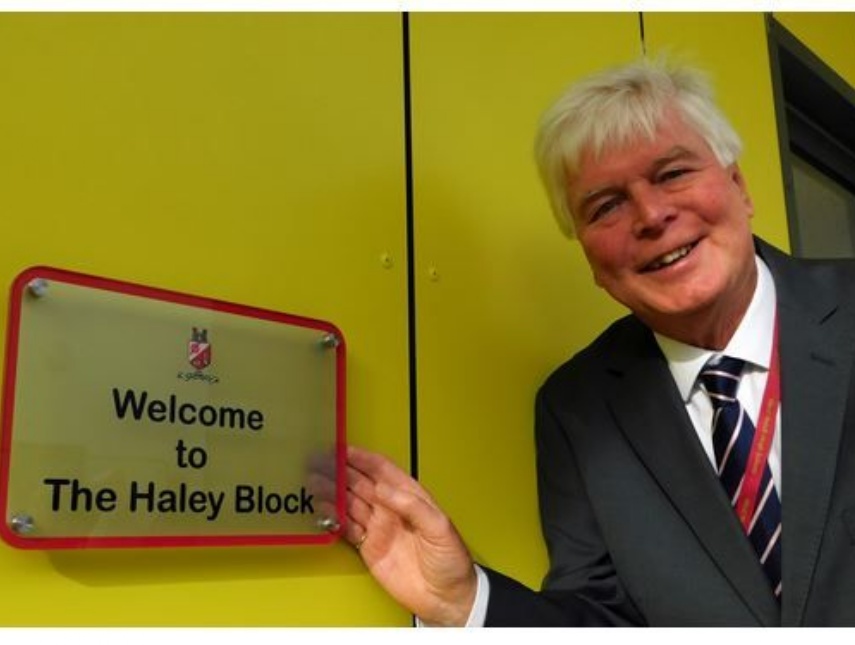 West Hatch High School has said goodbye and thank you to John Haley who has been Chair of Governors at the Chigwell school since 2008 having previously been a Governor since the 1990s.
Mr Haley has stepped down having overseen a successful period for the school, including a significant expansion to student numbers and facilities, a number of positive Ofsted inspections and the retirement and replacement of a long-standing and successful Headteacher.

Throughout his tenure, Mr Haley has shown an unrelenting commitment to improving the quality of education for the students at West Hatch but also, having led as Safeguarding Governor for some time, the safety and well-being of everyone in the school's community.

Over the last two years, Mr Haley has been instrumental in helping the school meet the ever-changing needs of running a school under the umbrella of Covid-19 regulations. He has always been visible around the school and is highly respected by all whom he comes into contact with.

Headteacher Daniel Leonard said, "I cannot thank John Haley enough for the continued support, confidence and care he has shown me in the last four and a bit years. John has made a tremendous difference to West Hatch over so many years and I am grateful to have worked so closely and learned so much from him. He is always so considered and has so much knowledge and experience."

"John has helped lead the school through some challenging periods of its history and has done so with the determination to make West Hatch the best possible environment for everyone within the school community. I will miss his support and guidance and wish him the very best for his retirement where he will be able to spend more time his wife, Chris, and his lovely grandchildren."

Mr Haley said, "West Hatch has been a part of my life for some time. I have been a Governor of the school since my two children were students there - and they are now both in their 40s! The school maxim is 'to be the best that I can be'. That principle doesn't only apply to students but to the whole school community including the Governing Body."

"I volunteered to be a Governor after a parents' evening where the then Chair of Governors encouraged parents to get involved in the life of the school. I have been a Governor ever since, and in recent years served as Chair. When I first became a Governor, the school had lost its Sixth Form as part of the re-organisation of local education. The Governors decided that a Sixth Form was an essential part of the school's identity and would help to attract the very best teachers, so in 1992, it took on control of its own future by becoming Grant Maintained. This independence allowed the school to re-establish a Sixth Form and attract the very best teachers and staff - and the best local students. The Sixth Form has flourished since that time, as has the school."

Mr Haley added, "In 2011, West Hatch High School was one of the first schools to apply for Academy status to allow it to continue to successfully manage its own affairs. My guiding principle as a Governor and as Chair has always been to ask and to do what is best for West Hatch. It has never been what is best for the Governing Body but what is best for the whole school community. It is my view that the most important responsibility of the Governing Body is to appoint the very best staff, and particularly and crucially the very best Headteacher. Get that appointment right and the school flourishes."

"During my time at West Hatch, the school has had three Headteachers - George Phipson, Frances Howarth, and most recently Daniel Leonard. We got all those appointments right."

Mr Haley will forever be immortalised at the school in the form of the Haley Block, the school's new English and Languages block which was completed as part of the expansion project.

It shows the regard with which he is held by those at the school that the new building was named after him.

Mr Haley's parting advice for Governors was 'only ever do what is best for West Hatch, not what's best for yourself, or your children, but what's best for West Hatch'.

Mr Leonard said, "This was his motto throughout his time as a Governor and is why he was so effective in his role. In saying goodbye to a pivotal member of the West Hatch family, the school is delighted to welcome the former Vice Chair of Governors, Adrian Harris, to Chair and Justin Van Wijngaarden as Vice Chair."

"The Governing Body has every confidence that our new Leadership Team will continue to ensure the highest possible standards of education, safety and wellbeing for our students."
"The Governing Body, Senior Leadership Team, staff and students would like to thank John Haley for his contribution to the school and the difference he has made to the lives of so many."