Official opening of Jenna's Garden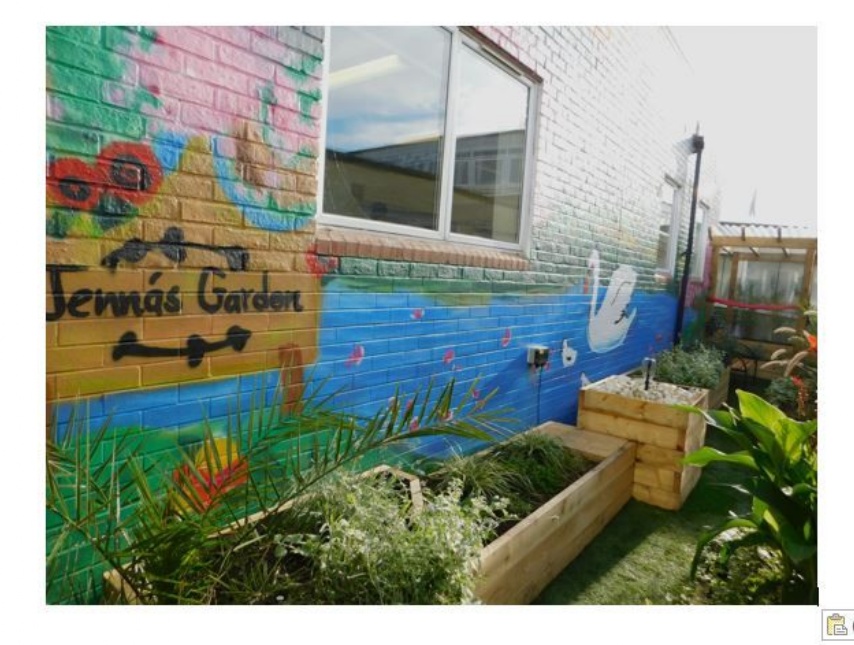 Jenna's mother Julie Wilkins cuts the ribbon to officially open 'Jenna's Garden' at West Hatch High School.
A garden area at West Hatch High School named after a former student and staff member and funded by a charity foundation set up in her name has been officially opened at the Chigwell school.

'Jenna's Garden' is a quiet space where students can sit and reflect, and remember loved ones.

The project - which features raised flower beds, a water feature containing decorated pebbles, murals and a bench - has been funded by the Jenna Wilkins Foundation.

Jenna, who was diagnosed with breast cancer at the age of 21 and died aged 25, had studied at West Hatch, and after university returned to the school to work as a Learning Support Assistant with the ambition to qualify as an English teacher.

Members of Jenna's family, her school friends and West Hatch staff gathered for the ribbon cutting on Wednesday.

Jenna's mother, Julie, said: "We've created a great place where kids can sit and reflect and relax. Jenna would love it. She would love her name to be up on the wall!"

She added: "Jenna was larger than life. Whenever Jenna was in the room, everybody loved her. She was the life and soul of the party."

The Foundation is working on providing a sensory room at Whitebridge School and has funded books for a reading club at West Hatch.

Julie said: "We want to support kids with special needs because that's what Jenna did and she loved it. It was almost like she had found her calling. She couldn't continue with it and so we are doing it for her in her name and in her honour."

The Foundation is also working with cancer sufferers,and gives luxurious pamper packs with contents donated by beauty firms.

Julie said: "Jenna was all about glamour and she loved an eyelash! We give people parcels - face masks, eyelashes, nails, make-up - and it has all been donated by beauty companies.

"We are never going to cure cancer but we can help people along the way. Jenna would love that. We just need to cast our net wider. We need people to know what we are doing. We only launched in January but since then we have done really well."

The Foundation has raised money through a series of brunches across Essex and locally and has also received corporate donations.

West Hatch High School headteacher Daniel Leonard, speaking at the garden opening, said: "Jenna was a really special young lady. She had an absolute heart of gold and in her short time with us she made a huge impression on the students and staff alike.

"Jenna's Garden is a fitting memorial for her."

He added: "It will make such a difference to so many people. The minute you go out there you just feel a sense of calmness, and there are already some decorated pebbles there for people we have lost over the course of the year."