Prince Sikiru named Player of the Tournament at Under-12s World Futsal Cup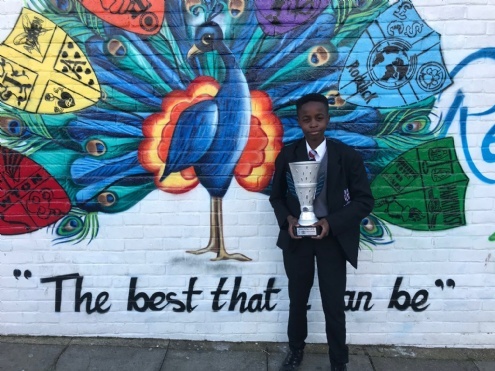 West Hatch High School footballer receives Player of the Tournament trophy for Under-12s World Futsal Cup
A West Hatch High School student has been named Player of the Tournament after playing in the Under-12s World Futsal Cup in Spain.

Year 7 student Prince Sikiru plays football for Ole Futsal Academy and Watford U12s.

He recently travelled with the Ole U12 team to Barcelona to compete in the World Futsal Cup against teams from all over the world, including Japan, USA, Columbia and Spain, including a team from FC Barcelona.

Prince helped his team win their group before they beat American team RVA in the semi-final before losing 6-4 to FC Barcelona in the final.

Prince was awarded the U12 Player of the Tournament trophy.

West Hatch High School Headteacher Daniel Leonard said: "Prince is a lovely young man with a great deal of talent. He has performed extremely well for the school this year and we are very lucky to have such a talented player at West Hatch.

"This is an amazing accolade to receive among a number of high quality performers.

"We are exceptionally proud of his achievements."