New headteacher looks ahead to an exciting new chapter with expansion plans and new facilities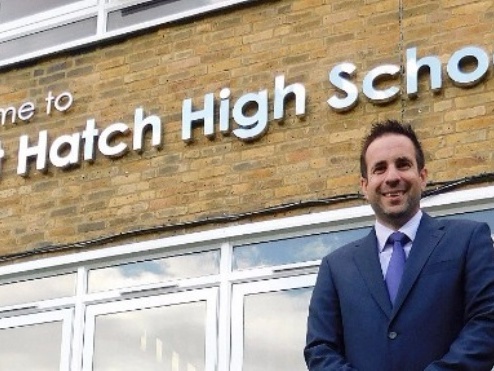 With a new headteacher and major expansion plans about to be realised it is an exciting time in the history of West Hatch High School.
With a new headteacher and major expansion plans about to be realised it is an exciting time in the history of West Hatch High School.

Daniel Leonard has been at the Chigwell school for nine years and admits he is in a good place to start his time as headteacher.

He arrived at West Hatch nine years ago as an assistant headteacher and in January 2011 was appointed a deputy headteacher.

Two years ago he was made associate headteacher and is now experiencing his first few days as headteacher having taken over from Frances Howarth who retired in the summer after some 20 years at the school.

Mr Leonard said: "I just feel very proud to be the head. I've been here for quite a long time so it's a nice place to be starting from.

"If you go to a new school you don't have the background, you don't know the students, the parents but I've got all that knowledge.

"Having had such fantastic (A-Level and GCSE exam) results this year it's a really nice place to start from.

"The students have come in with a great attitude and I've had lots of great comments about how great the Year 7 students are so I'm enjoying it."

Mr Leonard takes on the headship as West Hatch prepares to grow.

From next September West Hatch will be offering an extra 60 places in Year 7 with that figure to be repeated each year for the next five years.

Mr Leonard said: "Obviously with the expansion we will need new facilities and Essex County Council has committed to funding the school to increase its capacity.

"Probably the most exciting part is that we will be aiming to build a new sports centre with a fitness suite, dance studio and a PE classroom.

"That's really exciting for the school. We have such a wonderful tradition within sport and dance to be able to give them the facilities they deserve will be a really great thing for us as a school.

"We've also got a new English block coming and some new science labs and technology rooms so we will be able to fulfill the needs of the pupils in terms of space."

Mr Leonard added: "It's an exciting, challenging time to make sure we maintain the ethos and reputation that the school has had in the past. It's very exciting move into the future for the school.

"Ever since I've been here one of the things we've always been very proud of is we never just rest on our laurels. We know that whatever we do we are looking to improve.

"Even with the great results we've had this year we are looking for that to be the base line from now on as we move forward. We are always looking to improve.

"We want to keep improving standards across the school in terms of teaching and learning, in terms of behaviour and the attitude of pupils to learning and we want to continue to offer pupils the best possible education and make sure that we really prepare them for the next stages of their lives."