Music Morning gives taster of what to expect at West Hatch High School's Open Evening on Thursday, October 13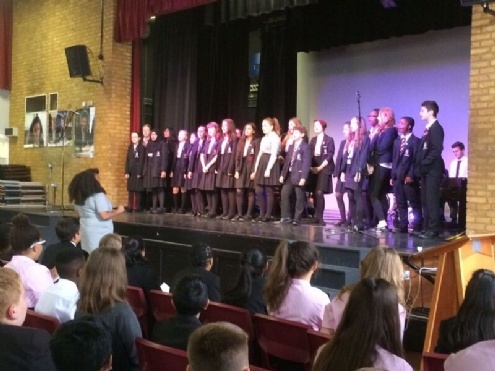 Year 7 students at West Hatch High School were treated to a Music Morning on Monday.


Year 7 students at West Hatch High School were treated to a Music Morning on Monday.

Performances by the KS3 and KS5 Bands, along with the Year 10 BTEC Music Group, demonstrated to the Year 7 students the wide opportunities in extra-curricular Music Tuition that the school offers.

Head Teacher Frances Howarth said: "West Hatch High School is renowned for its strong extra-curricular tradition with many students having performed at top London venues over the years, with others appearing on national TV.

"We hope our present Year 7 students - and those looking to join us in 2017 - will have fun whilst learning through music-making."

This time last year these same students were getting ready to attend the Year 6 Open Evening at West Hatch, which this year is to be held on Thursday, October 13, starting at 6.30pm with talks by the Head Teacher at 6.45pm and 7.30pm.

The Open Evening will include a wide range of demonstrations and performances - from Science, Music, PE, Dance, Drama, Food Technology & IT amongst others.

Visitors will be guided around the school by existing Year 7 pupils and senior students, including Prefects.

Ebony Martin, the Chigwell school's new Head of Music, said: "I am so proud of our students' musical ability and passion to perform. I have no doubt our students will excel at every musical opportunity, promoting their skill and enthusiasm to the Year 6 students that attend our Open Evening."

After an excellent summer of exam results at both GCSE and A-Level the school has much to celebrate and is looking forward to sharing this with Year 6 students and parents.

Further information about West Hatch is available on the school website
www.westhatch.essex.sch.uk

If you would like a prospectus please contact the school's Year 7 Admissions Secretary, Mrs Debra Burns, on 020 8504 8216.