West Hatch to West Hatch Bike Ride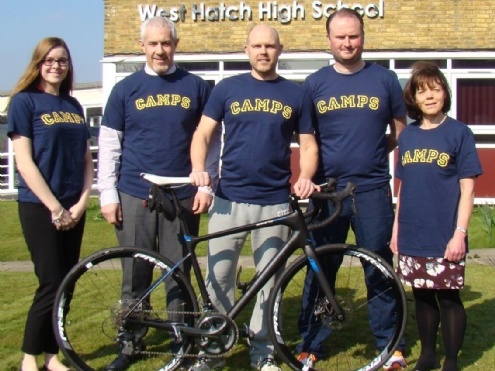 In summer 2017, 33 pupils and 3 adults from West Hatch High School will be embarking on an adventure to Borneo. As part of the fundraising, staff are riding for West Hatch to West Hatch!
To help rasie money for the West Hatch to West Hatch Bike Ride, we will be holding a Giving Day on Wednesday 29 June. All students and staff are encouraged to bring in £1 to donate.
To help donate for the West Hatch to West Hatch Bike Ride, you can also visit:
https://crowdfunding.justgiving.com/westhatch-to-westhatch
In summer 2017, 33 pupils and 3 adults from West Hatch High School will be embarking on an adventure to Borneo. The pupils will be fundraising to go on this expedition to Borneo.
This expedition is a once in a life time experience to make an impact on the lives of the locals; Improve living standards for communities and helping preserve the Orang-utan habitat.
Borneo is the largest island in the world situated in Southeast Asia's Malay Archipelago. It has a population of 18.6 million and is best known for its dense biodiverse rainforests which are some of the oldest in the world and are home to 15,000 species of flowering plants 3,000 species of trees, 221 species of terrestrial mammals and 420 species of resident birds.
It is also, (along with only the Sumatra rainforest) the home of Asia's only great ape; the native Orang-utan. These highly intelligent primate is highly endangered with deforestation, palm oil plantations and hunting posing a serious threat to its continued existence.
The pupils will be partaking in a variety of wildlife and environmental conservation projects such as; planting trees, taking part in wildlife surveys, helping cut trails and paths for the rangers and wildlife and putting up fences around the reserve to separate it from the encroaching oil palm plantations, to help protect and preserve the fragile habitats of the beautiful creatures as well as visiting the Sepilok Orang-utan rehabilitation centre.
For the duration of the expedition the pupils will be living as part of the rural community. As a part of the community they will helping with a variety of on-going projects designed to improve the overall living standards of the locals. The type of project will vary depending on the needs and priorities of each community at any given time. Camps International tries to focus on "trying to improve facilities and preserving cultural heritage within communities". The possible projects I will be a part of include (but are not limited to): contributing to the ongoing construction and development of the community centre, constructing and restoring footbridges for the villagers, developing the village marketplace, assisting in teaching conversational English at the local school and volunteering at the local single mothers centre.
The total cost of the expedition and the amount the pupils need to raise in order to go on this trip is £3989. This money will go towards the cost of the equipment and the resources needed in order to help the communities.
In order to raise this money pupils have been working hard by doing bake sales, fun runs, quiz nights, sponsored swims and one boy even wore make up to school to raise money. In the future we plan to do an awakathon and a 6km run to help raise money. Pupils have also been bag packing in local supermarkets and selling items at car boot sales.
West Hatch to West Hatch Bike Ride
As part of the fund raising for this expedition 5 West Hatch staff are cycling 250 miles - 400km over 3.5 days – from West Hatch in Somerset (Nr Taunton) back to West Hatch High School in Chigwell.
Day 1 – West Hatch – Nr Ruishton, Taunton to Chippenham – 80 miles approx.
Day 2 – Chippenham to Shillingford – 75 miles approx.
Day 3 – Shillingford to Marshallswick – 55 miles approx.
Day 4 – Marshallswick to West Hatch Chigwell – 35 miles approx.
We have set up a Just Giving Crowdfunding page to raise money for the ride. The cost of accommodation at our overnight stays is £230 per person for B&B. We have a member of staff driving a mini bus as support. The leader of the team, Steve Windsor, who lives near Saffron Walden has secured sponsorship from a bike specialist retailer in Saffron Walden – Newdales. They have kindly come on board as a sponsor and are providing a full selection of spares to cover all eventualities – tyres, inner tubes, tools etc. Training is well underway and we are all taking part in the Saffron Walden cycle sportive on 3rd July where we will be riding 50 miles together before we set off the following Friday.
To donate, please visit: https://crowdfunding.justgiving.com/westhatch-to-westhatch