Students attend the Apprenticeship Roadshow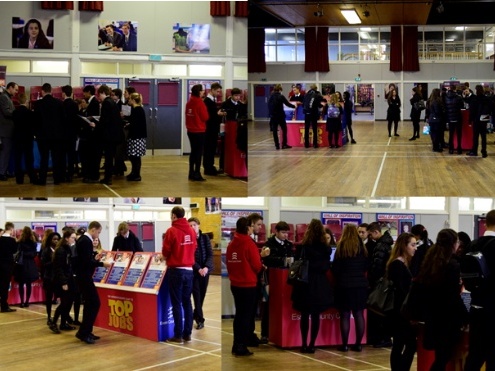 Year 11s find out what apprenticeships are all about
Year 11s attend the Apprenticeship Roadshow
There was a time when an 'apprenticeship' meant something hair & beauty based for the girls, and something construction related for the boys; this is certainly no longer the case. Apprenticeships have changed a great deal recently and there are now a vast array of different opportunities, available in a wide range of industries. However, there is still some confusion and stereotypes surrounding apprenticeships; this is where the Apprenticeship Roadshow comes in.
On Friday 27 November, the Year 11s had the opportunity to visit the Apprenticeship Roadshow and find out what apprenticeships are; what industries offer apprenticeships and how they could apply for one. The Roadshow helped to do some myth-busting about apprenticeships and highlight the fact there are so many more opportunities than just hair & beauty or construction.
For many students, the idea of an Advanced or Intermediate level Apprenticeship, after Year 11, is becoming an increasing popular choice. There is also the option of Higher Apprenticeships, as an alternative to University, and at West Hatch we have a record number of our Year 13s looking into these opportunities, rather than University.
The Apprenticeship Roadshow was a success and really got the Year 11s thinking about options after Year 11. The day was organised by Mr Towsey, our Careers Coordinator, who said: "The Apprenticeship Roadshow is an excellent opportunity for our students to learn more about the numerous apprenticeships available and helps them to understand what an apprenticeship actually is. From speaking to the Year 11s it is also good to hear that this has helped them decide what to do after Year 11."