Year 7s visit the University of Essex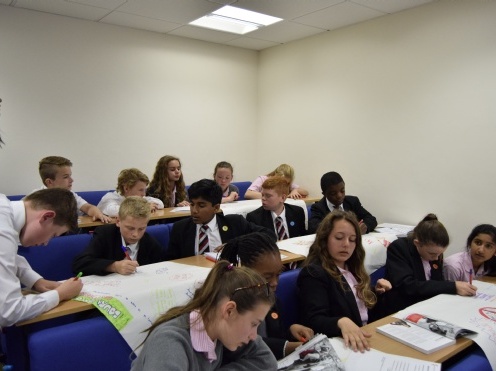 On Thursday 18 June some of our Year 7s visited the University of Essex, to gain an insight into what university life is really like.
Thursday 18 June was a slightly earlier start than usual, for some of our Year 7s, as forty-seven of them made their way into West Hatch for 8:20am. They had already psyched themselves up for a ninety minute coach trip, as they left West Hatch and started their drive down to Colchester.
The students knew they were on their way to the University of Essex, but many of them did not really know what to expect. All they had been told was that they would be spending the day at the University to get an insight into what university life is like and what you could study. Whilst some of them had visited universities in the past (with brothers, sisters, cousins and other family or friends), for many of the students this was the first time they had actually visited a university.
When they arrived and made their way off the coach they were amazed by the campus. As they walked passed the various lecture halls, accommodation, clubs, canteens and shops, they soon began to realise this was like a little village; it did not take them long to realise you would never have to leave.
The first activity of the day was a brief introduction to university life and why you might consider going to university. Although they were at the University of Essex, all the information would be equally relevant for any other university in the country. The students were amazed by the various opportunities and activities they could get involved with as a uni student.
Following this talk, the Year 7s were then given a tour of the University and had a chance to see some of the accommodation. The tours were delivered by some of the Student Ambassadors, who were current (or recently finished) students, and this was a fantastic opportunity for the Year 7s to ask them any questions they may have had.
Following the campus tour was the all-important lunch break. The students were given the opportunity to grab something to eat in the various food outlets across campus and have a little explore of their own: despite the fact many of them had brought lunch with them, they still could not resist the sweets, ice creams and Slush Puppies®.
After lunch is was back to another room and this time an opportunity to discover some more information about different universities and courses. The Year 7s had to design a poster about a specific university and answer a set of questions such as: how much are the tuition fees, where is it and what clubs and societies can you get involved with?
The researching a university resulted in much discussion and some fantastic posters. This was an opportunity for the Year 7s to look through some University prospectuses and find out some more information themselves.
Before we set off on our journey back home, there was just one last opportunity to ask the current University students any questions; and there were a lot from our Year 7s. It was not just the quantity of the questions, but also the quality of them which was amazing. There were some really mature questions and they gave the students a good grilling.
By 2:30pm it was time to get back on the bus and make our way back to West Hatch. It was agreed by students and staff that the day was a success. It got many of the Year 7s thinking about university and what they will do in the future. It was an enjoyable visit and they now have something to aim for in the future. Although they all loved the University of Essex campus, it was agreed that we will have to do another university visit, so the students can compare this to a city university: Oxford or Cambridge seemed a popular choice!