Business and Enterprise Day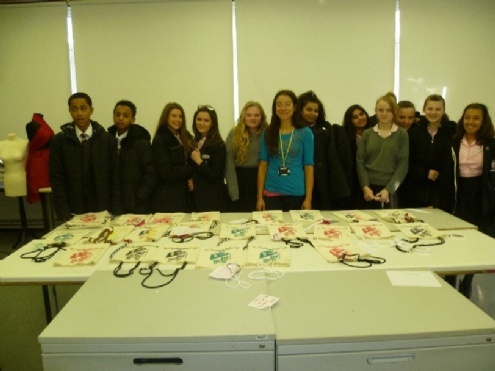 The Design Technology department recently celebrated the annual Business and Enterprise Day.
The Design Technology department recently celebrated the annual Business and Enterprise Day by carrying out projects based around innovative products that can be produced and sold in industry. This as usual; was undertaken with professionals from Industry. Activities were undertaken in Textiles, Food and Resistant Materials.
In Textiles, Emma Nissim; a sustainable fashion designer based in Greenwich, worked with pupils to design and make bags that were printed with the school logo. This consisted of printing the logo in a variety of colours and then being sewn together to make up the bags. Pupils are then going to sell the bags outside the hall to make money. This will teach pupils how to make a good quality product while making money.
A fantastic experience for those students particularly that are hoping to go on to study GCSE textiles.
One pupil commented 'It was interesting to see how a product is made from the beginning to the end '
In Resistant Materials pupils the theme was upcycling. Pupils took existing products (disassembled if required) and then upcycled using the theme of the Memphis design group.
They produced various types of furniture such as chairs.
In Food Technology, the pupils had the opportunity to work in teams to produce a high quality food product with Mr Graham Holmes, Food & Beverage Manager from David Lloyd.
The pupils were introduced to many new and advanced cookery skills that needed to be combined to make Fruit Tartlets. The tartlets were made using Pâte à Sucre Pastry, which was baked blind and filled with a Crème Pâtissière, a selection of fresh fruit and a fruit coulis with spun sugar work were used for decoration. All pupils thoroughly enjoyed this activity and were pleasantly surprised that they were able to produce such a high quality product in a limited amount of time. Pupils said "we worked well as a team", "we enjoyed making the fruit tartlets and the washing up!", "I would like to do more activities like this – so I can learn new cookery skills", "the session was perfect".
A very productive day was had by all.
Photographs of the work produced in Food as well as Textiles, and Resistant Materials will soon be available to see in the Technology corridor.