West Hatch High School students take part in Epping Forest Youth Conference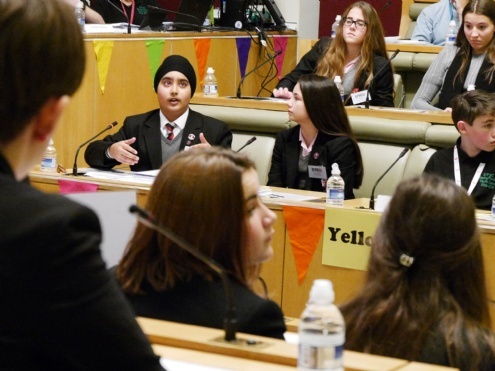 Students at West Hatch High School gained an insight into local democracy at the Epping Forest Youth Conference.
Students at West Hatch High School gained an insight into local democracy at the Epping Forest Youth Conference.

The conference, held in the council chamber at the Civic Offices, Epping, featured guest speakers including Epping Forest District Council chairman David Stallan, Brentwood and Ongar MP Alex Burghart and deputy police commander Tom Mitchell.

Students also took part in a debate over whether Epping Forest should have a Police Liaison Officer.

The debate can be viewed HERE

The students found the day very informative and agreed it encouraged them to engage with local and national politics.

It certainly got them talking and thinking about politics.

West Hatch High School's Student Voice co-ordinator Matt Calver hopes this will encourage the students to put themselves forward when the school relaunches Student Voice and allows students to stand for election as Form and House representatives.

West Hatch High School also celebrated UK Parliament Week with workshops highlighting what Parliament is and the work it conducts, with a range of debates and discussions.

Students tested their knowledge about how laws are made, the structure of Parliament, and also discussed what topics and issues would encourage them to get out and vote.

Throughout the week students and staff tackled topics such as what is Parliament, how do we hold Governments to account, how laws are made and what are elections and how do we vote.

The main debate during the week was whether the voting age should be lowered to 16: a topic which is regularly raised and was especially pertinent considering the recent referendum and elections.

The school's careers co-ordinator, Geoff Towsey, said: "Simply talking about politics and showing young people the ways they can get involved can really encourage them to engage in politics and current affairs.

"Whilst I know we have some students who could be future councillors or MPs, our aim is not to encourage all students to go onto a career in politics but to at least listen and engage with the debates they hear on the news and from politicians.

"They will all soon be able to vote, so hopefully talking about politics now will allow them to make an informed political decision in the future."

West Hatch students engaged in the debates and discussions.

It is hoped that in the new year the school will introduce a new Politics and Public Speaking Club.